Sugar Hill-1974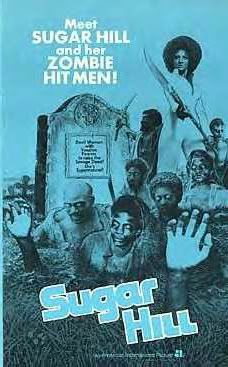 What do you do when some white guy gets his flunkies to beat your man to death in the parking lot of the club he refused to sell? If you're Diana (aka Sugar) Hill, you raise some zombies and exact revenge. What else?
Morgan (Robert Quarry, aka Count Yorga) is a ruthless thug, bent on owning Club Haiti. But Langston (Larry D. Johnson) just refuses to budge. So, it's face down in the parking lot wearing a strangely sparkling leisure suit with a wavy lapel. What a way to go.
Sugar (Marki Bey) goes back to her family homestead to find Mama Maitresse (Zara Cully, aka "Mother" Jefferson from the original cast of The Jeffersons), Voodoo priestess, who claims to be out of the business, possibly on moral grounds, but once you get her going, seems very enthusiastic about her work. Together, they rouse Baron Samedi (Don Pedro Colley), the Haitian "loa" of death, wearing a top hat and spinning a cane. He's responsible for controlling passageway from the world of the living to the world of the dead, and is supposed to enjoy cigarettes, food and the rum in which 21 hot peppers have been steeped…or, in the case of this film, all he wants at the end of the day is a little action.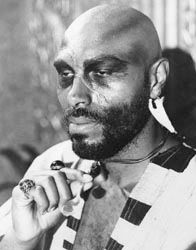 So, the dead do indeed rise, in the form of slaves that died circa 1840-1850, on the way over from Guinea. Still wearing their shackles (which rattle and clank just before they do in a henchman) and brandishing machetes, these 'fro-sporting zombies stare with their silvery, bulbous eyeballs (make-up courtesy of Hank Edds, who also provided make up for Polanski's Chinatown that same year.)
Lt. Valentine (Richard Lawson), Sugar's former lover, is on the case and for no apparent reason suspects voodoo is behind it all. Between his research and flirting with Sugar, he manages to get absolutely no where, not that it matters.
Ah, the Blaxploitation genre, at which one both laughs hard and shakes head sadly, thankfully spat out a horror sub-genre. Along side the likes of Blacula (1972), Blackenstein (1973) and Dr. Black and Mr. Hyde (1976) comes Sugar Hill, the undead's foray into the world of women's pantsuits and catfights, not to mention the unashamed use of the word "Nigger" and, more amusingly, the term "Honk." Who can we thank for this? For one, you can thank Tim Kelly, well known mostly as a playwright (also penned "Zombie" and "Shake with a Zombie".) Sugar Hill was adapted from his play "Black Voodoo." You can also thank director Paul Maslansky, who thankfully never directed again, but did bring us the Police Academy movies as a producer. And, of course (and not surprisingly) Samuel Z. Arkoff, of American International Pictures. God, what else this man is responsible for…well, that's another book entirely.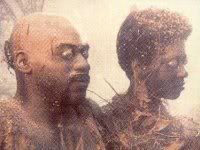 You're either going to be highly amused by this film, or slightly offended. In either case, it's worth a watch for many reasons, two of which I'll provide for you here. There aren't too many movies out there that give you an attack-of-the-disembodied-chicken-leg scene. And if that's not enough to get you to rent this one, you'll be charmed when you're exposed to the opening and closing song "Supernatural Voodoo Woman" by the Originals (Motown Records, from the album "Game Called Love" (1974), which also features the song "She's My Old Lady.") You don't want to miss out of having this stuck in your head for days and days.
Tagline : "Meet SUGAR HILL and her ZOMBIE HIT MEN...The Mafia has never met anything like them!"

Also Known As:
Voodoo Girl (1974)
Zombies of Sugar Hill, The (1974)
Runtime: 91 min
Country: USA

Marki Bey .... Diana 'Sugar' Hill
Don Pedro Colley .... Baron Samedi
Robert Quarry .... Morgan
Richard Lawson .... Lt. Valentine
Zara Cully .... Mama Maitresse
Betty Anne Rees .... Celeste, the moll